Powder Coating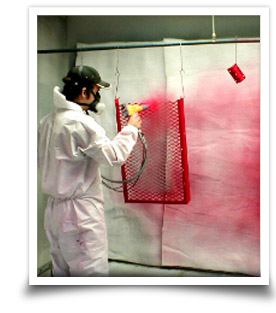 AllSpec Finishing is your best choice for powder coating services when you need a large selection of colors and demand excellent corrosion protection.

AllSpec Finishing started with military powder coating applications and took those strict standards to the other industries we service. This assures quality coverage and consistent finish characteristics without runs or sags. Our large variety of resins provide important advantages such as durability, resilience, high gloss, and resistance to corrosion, wear and weather.

The powders used in AllSpec Finishings' powder coating processes are always uniform, free from grit, and without impurities. We always test every powder coating mix before applying it to each project.
Powder Coating Features
Phosphating: Enhances adhesion and provides additional corrosion resistance.
Masking, Masked Spraying: Provided for wet or powder coating
Large Booth Size to accomodate oversized items
Multiple powders for clear coat and strict thickness requirements
Featured Projects
Choose AllSpec Finishing For All Your Powder Coating Needs
Proven process-control inspections ensure the high level of quality AllSpec Finishing consistently delivers on their powder coating process. Click here to get a free, no obligation online quote from All Spec Finishing.