Company News
All Spec Finishing Helps Local Business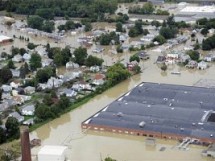 In early September of 2011 a devastating flood of historic proportions hit Broome County in Upstate New York. Thousands of residents and businesses were impacted by the flooding as the Susquehanna reached a record crest, spilling over the flood walls and flood gates that have protected the area for nearly a century
AllSpec Finishing was fortunate not to have incurred any major damage during the flood, however, many of their vendors were directly impacted. One of these companies affected was BAE systems, an integral local manufacturing business which keeps thousands employed in the Binghamton area. It was imperative to get BAE back up and running and allow the hard-hit community to return to their jobs.
AllSpec Finishing teamed up with BAE Systems by re-furbishing manufacturing machines and get the company back up and running as quickly as possible. AllSpec provided refinishing services and inspection services to be certain every machine was operable and safe for employees to come back to. "We're just glad we could help bring our community back to work", said Anthony Milasi, President of AllSpec Finishing. "Most of BAE's employees and their families were impacted by the flood as well and we knew getting them back to work would be both a morale booster and provide much needed income to those affected by the flood."
AllSpec Finishing has been operating in Binghamton, NY for over 20 years and continues to support the local community that has been a constant contributor to their success.